An in depth look at the famous Hollywood painter, Burt Shonberg. Interviews with artists, actors, and other Hollywood folks who knew Burt. The film is 1:18 minutes with the last part featuring some of Shonberg's finest paintings and drawings.
$15.99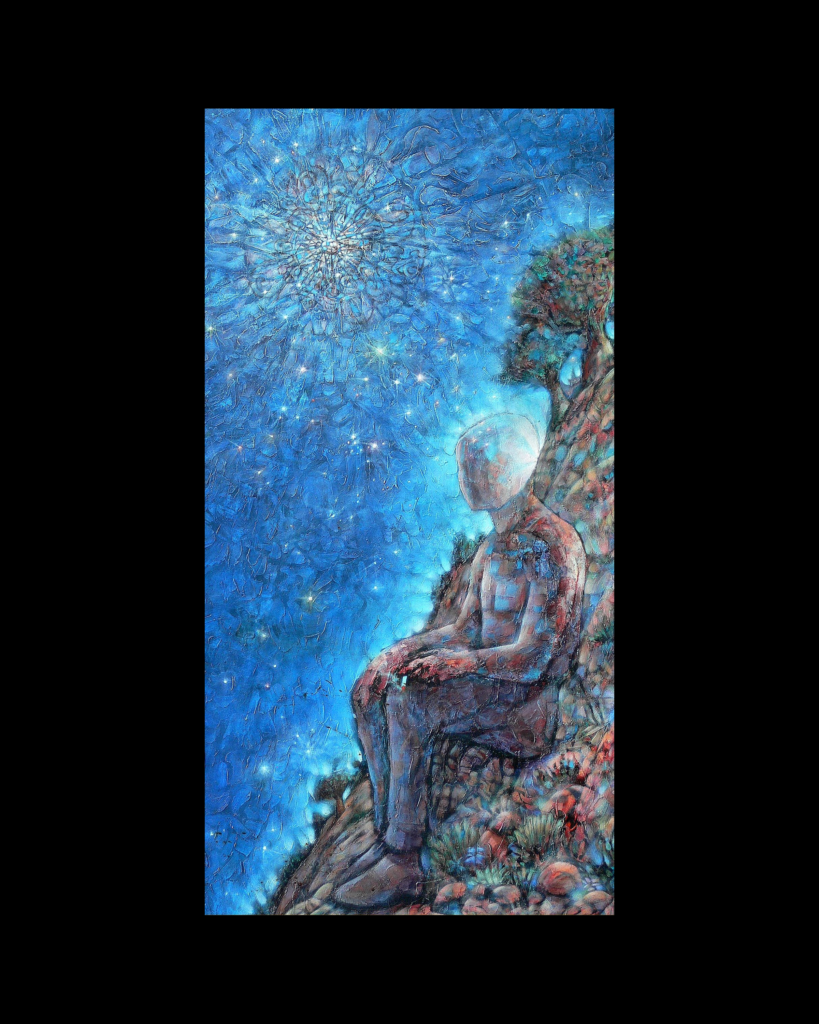 "Out Here" – 12″ x 18″ High Quality Poster
The title of this art piece is "OUT HERE".  It is shipped with an official Burt Shonberg Art stamp.
This painting was used as the cover for the Arthur Lee & Love LP titled "Out Here". The original painting is 3 X 4 feet in size painted on masonite board with casein as the paint material. 

This painting depicts the artist sitting on a hilltop in Joshua Tree National Monument near Palm Springs, California.  This area was visited many times during the 60s by Hollywood "insiders" who participated in taking Peyote with the aid of an Inter-Tribal Medicine Man from the Shumash Tribe named "Semu", and also known lovingly by his tribe as "Grandfather".  Note Shonberg is smoking a cigarette and the features of his face and head have melded into the universe while the mind expanding experience allowed Shonberg to visit another "reality".
$19.99
$14.99
Burt Shonberg – "Aztec Vision" – 12″ x 12″ High Quality Poster
"Aztec Vision" – 1965 – Burt Shonberg – This painting represents Shonberg's experimentation with Peyote and his association with an inter-tribal medicine man from the Chumash Tribe. This high resolution 12 x 12 inch reproduction is printed on quality heavy paper stock. Watermark not on purchased image. A certificate of authentication letter and official Burt Shonberg stamp comes with each print.
$19.99
Burt Shonberg – "Mona Lisa" – Quality Poster
This outstanding classic painting was created by the Master Painter Burt Shonberg in 1975.  For the first time this high quality reproduction is available for sale.  The image is 12in X 18in in size and will fit perfectly in a 12in X 18in frame.
To Purchase please go to: laughdomerecords.com to purchase any Burt Shonberg product.